May 8, 2008
On Sunday, May 18th at 2pm, my Jazz quartet with the assistance of special guests will perform a concert at Park Blvd Presbyterian Church in Oakland (located at 4101 Park Boulevard). This is the first in a series of 'Concerts for the Community,' at Park Boulevard Presbyterian with all donated funds from my concert going to benefit Glenview and Edna Brewer public schools in Oakland. Tickets are free at the door, but there is a suggested donation of $10.00; seating is limited so please arrive early. There will be a light reception and artist "meet and greet" after the concert. For more info please contact Park Blvd at 510.530.5311 or visit www.PBPC.org.
I am honored, not only to be the first concert in the series but, to be associated with an organization which is making strides to enhance the lives of Oakland's youth.
The event was a success; the crowd was really into the music, full of energy, and more than happy to support their neighborhood schools. The presidents of the both Edna Brewer and Glenview schools were in attendance as well and students from both locations.
Here's a post concert picture of the Quartet (L to R): Robert Rhodes – Drums, Devon Hood – Bass, Tim Campbell – Piano, and me. Park Blvd is a fantastic setting for acoustic music; a rich, warm sounding room that allows us to be creative and explore every subtlety of the music…plus, the band sounded great that afternoon!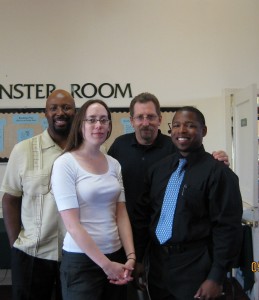 Thanks for reading! 🙂
Terrence