May 7, 2008
On Monday, May 5th (happy Cinco De Mayo!) I had the honor of being the featured guest artist and clinician for the Santa Rosa Junior College Jazz program (www.santarosa.edu). Santa Rosa JC's jazz program has been under the talented and watchful eye of Bennett Freidman for the past 30 years. Bennett is a wonderful saxophonist and educator (who plays pretty good piano too!) who has cultivated a great spirit of learning and fun up north.
The day started with a performance/interview for SRJC's jazz imporv class. Myself, Bennett, and two students (Josh Fossgreen – bass and Miles Tune – Drums) performed several jazz standards as well as an original composition of mine to demonstrate improvising and accompanying in different styles. In between songs Bennett engaged me in interview style questions that covered the entire range of the musical experience – how did I get started, my influences, how do I market and promote myself, etc.
That night I performed with SRJC's three jazz combos. The concert was in Newall Hall, one of the most amazing recital halls I've seen on any campus! We had a great turn out and most importantly a lot of fun 🙂
The SRJC students gave me inspiration beyond belief! It wasn't that long ago I was in the same seats they're in now while I was a student at Los Medanos College (a JC in San Francisco's east bay). They helped renew my passion for the music…they reminded me why I started on this path…it was, and is, the love of the music. They played their hearts out and had a great time and I was honored to be a part of it with them!
No matter what the music biz throws my way, I am truly blessed to have my passion be my vocation!
Thanks for reading 🙂
Terrence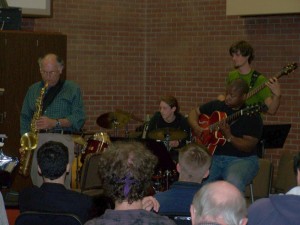 Terrence Brewer at Santa Rosa JC Video